Editor's note: In preparation for the launch of GET ON, I've set up my official author website, including its own blog, to corral all the info about the book – and any books that might follow!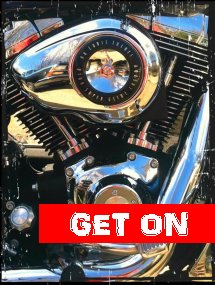 If you've been thinking that women who ride their own motorcycles look totally cool, independent, rebellious, and free, you're right!
And if you've been thinking you might want to grab some of that for yourself, but you're not sure if riding is right for you and how you would even get started, you'll want to read Get On: A Guide to Riding Motorcycles for Women Who Think Too Much.
Get On is a a casual "been there/thought that" book – a no-B.S. conversation you can have with someone who has been through the very same thought process you're currently going through. It's a funny, informative, inspiring and affordable e-book for women who want to ride but are holding out because… well, probably for some of the same reasons I was holding out all those years ago!
For potential riders who are hesitating, Get On will answer lingering questions such as:
What do I need to get started riding?
What's the best way to learn to ride?
Which motorcycle should be my first?
How am I going to stay safe on my bike?
How do I find people to ride with me?
GET ON will be available beginning Friday, October 25 for Amazon Kindle and all the free Kindle readers and Kindle reading apps. I am hoping to have a direct-download PDF document also available, and a Nook/ePub edition.
Remember, you do not need a Kindle device to read Kindle e-books. Your iPhone, Android phone, and tablet device all have free Kindle apps available, and there is also a free Kindle reader for your laptop computer.
I can't wait to hear what you think of Get On!