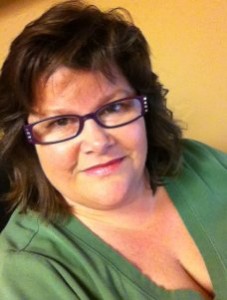 Janet Green's writing career began in 1970 at the age of 8 when she wrote the literary world's finest bird-themed mystery story, View From the Birdhouse Porch.
She has since been a lifelong writer of everything from bad unpublished fiction to passable corporate communications and not-completely-hideous humor essays.
Her motorcycling adventures began much later, and with the advent of blogging she discovered an outlet for combining both riding and writing. She has been blogging since 2004 at www.bikerchicknews.com. She admits to sometimes going for a ride just so she will have something to blog about.
Janet's addictive personality is super-helpful in pursuing other favorite hobbies, too, such as Internet empire-building, consuming Reese's Peanut Butter Cups, and collecting dead relatives or vintage dinnerware.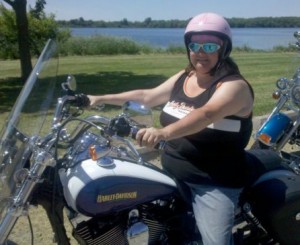 She has a professional background in marketing and corporate communications, and through a series of odd twists of fate, poor decision-making, and finally happy accident, she now works in the senior living industry helping independent retirees relocate into beautiful apartment homes.
She has published articles in various motorcycle magazines including Throttler, Thunder Roads Iowa, and HOG Africa. She is also a contributor to the first edition of Age of Conversation, a multi-author book about the impact of social media.
When she's not riding her present bike – a 2010 Harley Davidson Super Glide Custom named Kitten – Janet's probably online, reading about some random topic such as the dietary preferences of the turkey vulture, and hanging out on Twitter (@Bikerchicknews).
Which is sad, because she does have a home life most notably centered around her college-age daughter.